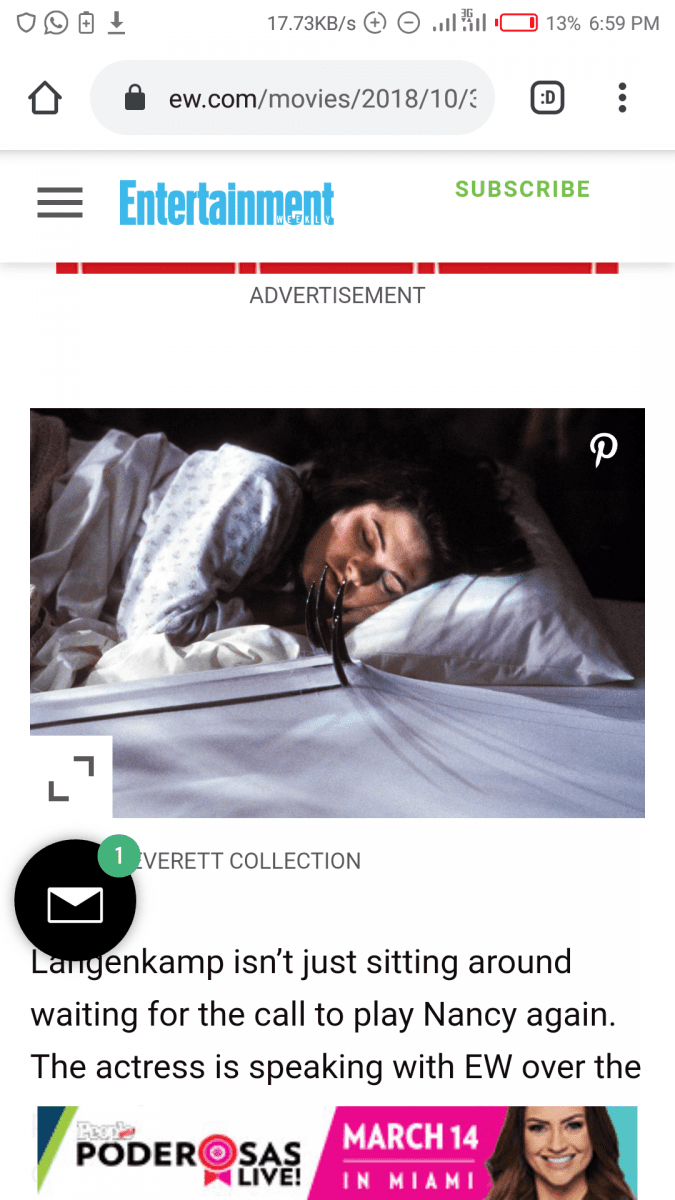 Lankenkamp originated the role of the Freddy Krueger-battling high schooler Nancy Thompson in the late writer-director Wes Craven's original 1984 film and played the part again in 1987's A Nightmare on Elm Street 3: Dream Warriors, before finally portraying a version of herself in 1994's meta-shocker Wes Craven's New Nightmare. Robert Englund played Krueger in all three films, and starred as the dream-dwelling maniac in eight movies in all, including 2003's monster mash-up Freddy vs. Jason. In the 2010 remake of A Nightmare on Elm Street the actor was replaced by Jackie Earle Haley, while Rooney Mara played "Nancy Holbrook." But Englund recently played Freddy in an episode of The Goldbergs and seems willing to do so again on the big screen, if the project did justice to Craven's creation.
"I see Robert all the time, we were just together in Baltimore (at a convention)," says Langenkamp. "He actually spoke for a quite a while at one of the panel discussions that we did about his yearning [to play Freddy], but also his commitment to always putting the best face on Freddy's legacy. You know, he travels the world making fans happy with his presence and his charm. I think he's probably the best advocate for how important Freddy is in our horror community, how Freddy Krueger changed the genre to be this incredible juggernaut of money-making for Hollywood. I do believe that Robert Englund and all the '80s monsters really changed film history and I think they deserve even more recognition than they get. If the way to do that would be to have a Freddy movie for Robert Englund at this incredible point in his own life, I think it would be fantastic."
the Nightmare on Elm Street horror icon introduces recreations of "real" scary stories from America's history.
"I'm calling it a dark docudrama-Twilight Zone," says the actor, who played the nightmare-creating Freddy Krueger in eight films. "What I like about it is, even though it's myths and legends, they all were reported in a newspaper. They have a certain journalistic-reportage-cred that I think differentiates it from a show about UFOs or paranormal [activity]. We have our share of ghost stories, but these are ghost stories that were reported in newspapers and periodicals. So, even though perhaps we've outgrown some of those superstitions and we can explain some of those things better now in the 21st century, I still like the idea that these were stories that came from newspapers and I love the fact that they are part of our history. And then there are the ones that are obviously true, like people being buried alive during the yellow fever epidemic."
The premiere includes the tale of a man who receives a premonition that he will die in six weeks' time and is unable to sleep as a result. Now that sounds very much up Englund's, um, Elm Street.
"Strangely enough, there are a lot [of stories like that]," he says with a chuckle. "I don't know if this was our producers steering the writers this way because of the baggage that I bring. I've certainly made a small fortune off of nightmares. But I think part of it is that, back in the 19th century and early 20th century, dreams and prophecies were given a little more respect. I think that's why they show up so much."
While it might be a little premature to suggest that Langenkamp could direct an Elm Street film, she wouldn't be the first woman to do so. That blood-streaked glass ceiling was broken by Rachel Talalay, who oversaw 1991's Freddy's Dead: The Final Nightmare and in recent years has become an in-demand TV director, helming episodes of Doctor Who, Sherlock, The Flash, and, most recently, Chilling Adventures of Sabrina.
"Rachel [is] a trailblazer," says Langenkamp. "Rachel not only was the first director, but she literally was part of New Line Cinema (the company which produced the franchise) from some of the earliest days. In fact, in the beginning, she worked in the accounting office. So, she's a real inspiration, a woman finding her place, and moving her way up little by little by little by little, and then getting an amazing opportunity and taking it."
So, will we see Heather Langenkamp playing Nancy Thompson again? According to the actress, your guess is currently as good as hers.
"I haven't [heard anything about a new film]," she says. "I certainly keep up with friends at New Line Cinema, and so I would expect if Warner Bros. or New Line Cinema — whoever — would put something like that together, I would imagine that I would know. So, the fact that I don't know leads me to believe that it's probably not in the works.
"Of course, I love the character so much, and she's definitely part of me, and as I grow old, she grows old inside. Every time Wes Craven used to call, and ask if I would be interested in playing Nancy one last time, I would often be incredibly excited about it. But I don't know what forces in Hollywood are planning on that remake, or that rematch between Nancy and Freddy. I'm like my own fans. I just think, Wow, that would be neat!"