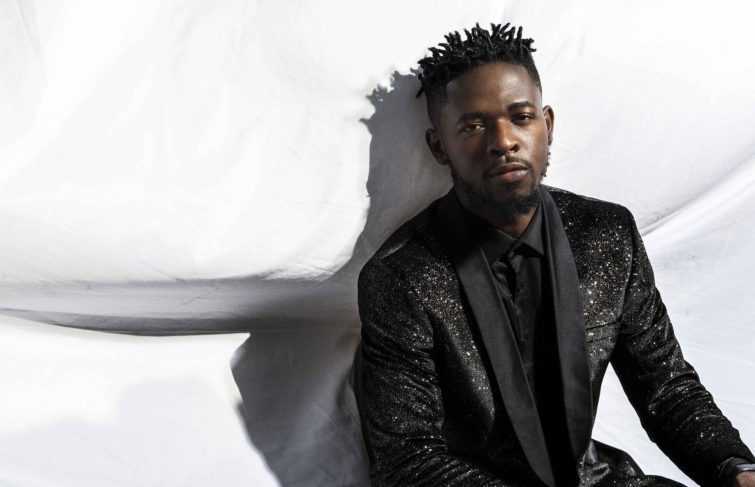 Mavin Records music act, Johnny Drille, who will be holding his first ever live show today, has recounted how his parents supported his music career from the little they had.
According to Johnny Drille, his parents who are both Pastors were fully concerned and also supported him, after he decided to pursue a career in music and singing love songs. According to him, his mom paid for his first music session out of the little she had, and his dad took a loan to pay off the expenses of his first music video shoot.
Read his heart melting story below;
"A Happy Story
Tomorrow I fly my mum and dad into Lagos for my first ever live show #JohnnysRoomLive. This is special to me as I want them to see the person I've become.
"Both my parents are pastors and were concerned for me when I decided to fully pursue music singing mostly love songs. They have supported me notwithstanding and I want to show to them with this show that a lot of people their son and his music and that faith they had in me wasn't for nothing.
"My mum out of the little she had paid for my first computer and studio monitors which I still use to this day and my dad took a loan to help me shoot my first music video. I want them to see on Sunday that all those weren't for nothing.
"My parents are simple people and don't care for fancy things. Pa had wanted them to travel by road but I had insisted on flying not cos I have so much money but that I want them to fly on a plane for the first time and know how that feels. I work and hope that in good time I'd be able to fly them to Dubai and other cool holiday destinations. I also want them to meet Don Jazzy."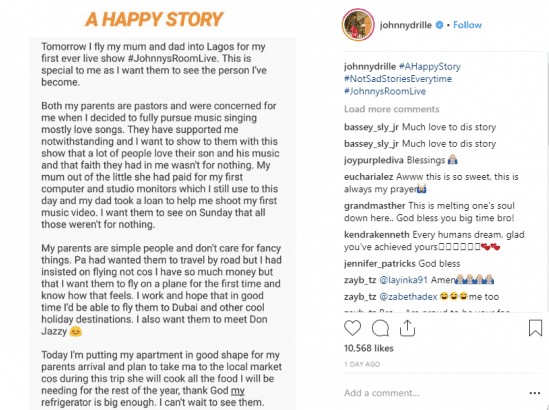 The post Johnny Drille Recounts His Parents Sacrifices As He Holds First Concert Today appeared first on Nigerian Celebrity News + Latest Entertainment News.